You need special skills and preparation to complete the Tongariro Alpine Crossing in winter (June to October). There are increased risks from snow, ice, avalanche terrain and sub-zero temperatures.
Tongariro Alpine Crossing Winter Experience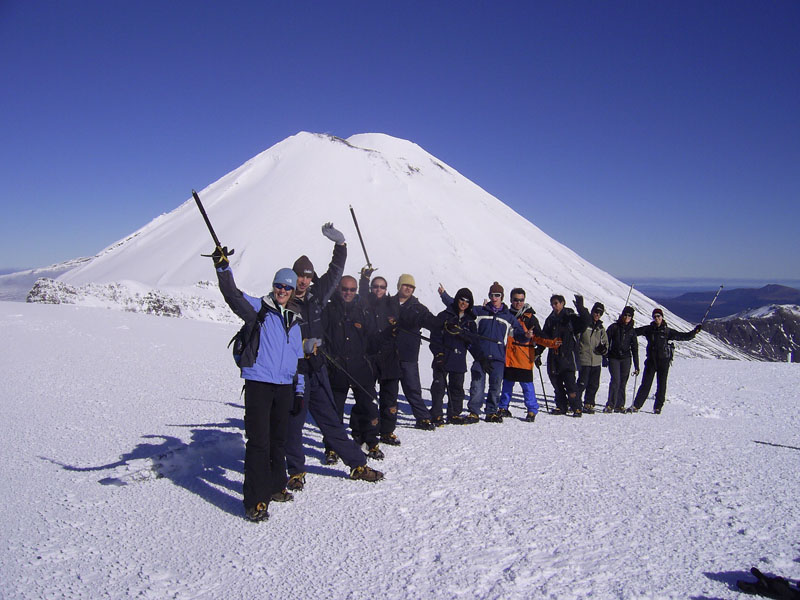 If you are not experienced in hiking in alpine terrain in winter conditions, a guided trip is recommended.
Weather on the Tongariro Alpine Crossing is subject to severe alpine condition and can be extreme, particularly on the Red Crater ridge. You can expect snow, ice and strong winds.
Weather forecasts are used as an initial guide. Your guide will make trek decisions based on the actual condition on the day.
All those attempting the Tongariro Alpine Crossing with or without a guide must be of good health and good fitness. Guides expect you to sign a form stating this.
Medical conditions including epilepsy, blood pressure complications, heart problems and chronic asthma may prevent you from joining the group.
Find a Tongariro Alpine Crossing guide here.
Winter hiking must-haves:
The following is a mandatory minimum gear and equipment list for each person
NO cotton tops (i.e. no T-shirts) or jeans
NO trainers, runners, gumboots, or slip-ons or any shoe or boot with mesh material
Crampons and ice axe
Warm hat (beanie)
Warm gloves
Sunglasses
Four warm tops. Thermal/fleece singlets are best. Brushed-cotton sweats can make up two of the four layers required
Reliable rain coat which can be a shell only
Two pairs of long warm trousers. Either thermal longs to be worn under walking trousers or walking trousers under water-proof outer.
Warm socks
Walking boots with adequate tread (not trainers, runners or slip-on shoes). Footwear must come to above the ankle and be made of a non-mesh material, i.e. leather or Gore-Tex
Backpack
2 litres of fluid and a packed lunch (chocolate or sugary snacks are good for quick energy hits)
Torch / flashlight
Sunscreen and lip balm